ESG stands for Environmental, Social, and Governance — a powerful trio of factors that define an organization's impact on the world. It's not just about profits; it's about responsible business practices that safeguard our planet, foster social inclusivity, and ensure robust governance for long-term success.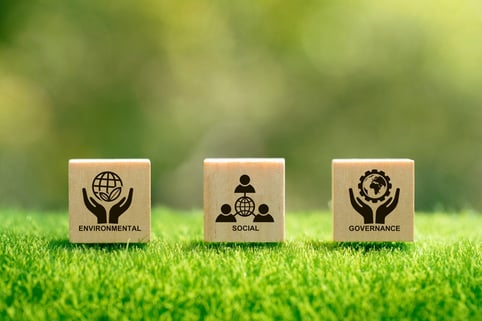 Tax Efficiency
Reduce your tax liability through sustainable practices.
Financing Advantage
Enjoy lower borrowing rates with an ESG-focused approach.
Market Funds
Raise funds from the market with ease, backed by your sustainability commitment.
Attract Talent
Retain top talent by aligning with values that matter.
Enhance Reputation
Build a stronger brand reputation and gain a competitive edge.
Customer Relations
Secure customer loyalty while attracting new clientele through sustainability initiatives.
Our ESG Offering
Visualize ESG Insights




Experience unparalleled ESG reporting through our tool's "Reporting" phase. Watch your data transform into insightful visuals, showcasing your triumphs in data collection. Dive deeper into specific metrics for comprehensive insights.

Steer Your ESG Strategy




Set ambitious targets based on ESG realities and governance directives. Monitor progress and pivot strategies to achieve desired outcomes. Drive policy deployment throughout your organization.

Seamless Insights and Initiatives




Generate captivating reports based on the revered WEF framework. Traverse the ESG landscape across Environment, Social, and Governance pillars. Witness lessons sprouting from your collected data.

Seamlessly Manage ESG Data




Experience the synergy of data management and reporting within our tool. Empower your ESG journey with seamless data management:

Control and Customization




Tailor data collection to your needs.

Automated Tasks




Precision-driven automation for data collection and validation.

Data Integrity




Ensure the integrity and availability of ESG reporting data.
Xebia's ESG Focus
Championing the 'E' in ESG In the vast ocean of ESG, Xebia has honed its focus on the 'Environment' aspect.
Our global Software Engineering and IT services company is committed to driving change
in the most crucial facet of ESG.

Navigating Net Zero
At Xebia, our spotlight is on Net Zero – a compelling mission to slash greenhouse gas emissions
to near-zero levels. We're determined to make an impact by minimizing our carbon
footprint and inspiring others to do the same.


_____________



Partnering for Net Zero Success Journey
The path to Net Zero is a structured process that delivers tangible results:
Baseline Data: Measure your carbon footprint across operations and value chain.
Hotspot Identification: Identify emission hotspots for targeted action.
Decarbonization Strategy: Devise a comprehensive plan to reduce emissions.
Goal Setting: Establish short-term and long-term Net Zero targets.
Monitoring Progress: Track your progress and celebrate milestones.


_____________


Our Net Zero Offering
Tackling Net Zero isn't without hurdles. Xebia is here to guide you through the complexities:
Streamlined Data Collection: We automate data gathering from diverse sources.
Error-Free Processes: Eliminate manual errors with advanced automation.
Holistic Solutions: Xebia offers a comprehensive toolset for a 360-degree approach.
Regulation Compliance: Stay updated with evolving standards and frameworks.
Personalized Support: Our consultants are dedicated to your Net Zero journey.